Over the past decade, the landscape of records management has changed. What was once accomplished by some well organized filing cabinets now must be actively maintained by employees or entire departments. Organizations of all types have become increasingly more aware of the consequences of not having a records retention policy and procedure in place, but many have not taken any action to correct their outdated process.  The negative implications such as civil and criminal penalties for noncompliance, as well as the growing cost of employee hours, has caught the attention of C-level employees. Learn more about how Enterprise Content Management (ECM) can benefit your organization, as well as the traits to look for in an ECM system. 
Is content management that important?
Record-keeping activities impact an organization beyond just records managers, AP clerks, and finance executives.  The broad definition of records management requires that every employee at every level be responsible for following retention requirements. No department is immune.
Many managers don't fully realize that their records consist of every scrap of paper and electronic documents, from faxes and invoices, to hiring and onboarding documents, to voicemails, emails and database reports. Organizations are disjointed with their storage, keeping important records in boxes beneath desks, filing cabinets in unused closets, and flash drives tossed in a drawer. This leads to missing files, incorrect information, or worst case, compliance issues.
Many organizations believe that using a free online document storage system, email archives, and physical off-site storage facilities are enough, but these systems aren't secure, and the costs can add up.
That begs the question, how do you protect your organization while saving employees' time and resources?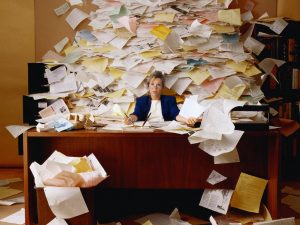 Enterprise Content Management is the answer
Leading organizations, both public and private are adopting electronic records management software and enterprise content management (ECM) systems to reduce the time and cost associated with records management, while keeping their organization compliant.
The right records retention system helps leading companies
Reduce capital and operating costs related to physical record storage by up to 95%
Reduce labor costs related to processing document by 30-50%
Increase productivity by 5%.
Produce records and record history on demand for audits and legal holds
Enterprise content management approaches require flexible, scalable, automated records management systems deployed in conjunction with a comprehensive record retention policy which includes a legal hold policy and well thought out business workflows.
What to consider when implementing a new records management system
1.  Reliability
You don't want your system to fail, think about worst-case scenarios for your organization, will this system hold up? Ask questions and talk through emergency procedures to ensure you will trust the solution.
2.  Security
Consider who will be using your system, and who you don't want to have access to it. What protections will be in place? How will you prevent unauthorized users from getting in?
3.  Defensibility
In the case of an audit or need for proof of compliance, ensure that your ECM clearly documents policies and procedures that drive processes. Support them with clear proof that the organization follows them.
An Electronic Document and Records Management System (EDRMS) is software used to track and store records. EDRM systems provide specialized security and auditing functionality in addition to basic document imaging and document management functions.
What type of features do organizations require when implementing an electronic document and records management system?
1.  Advanced capture features that allow the import of paper and electronic records in any format from any source. Regardless of the form of the record, the system should capture it at the earliest point of entry without additional steps.  Importing via scanner, fax, and print features are critical. The ability to store emails as well as attachments is
2.  Real-time  indexing and data capture (including capture of metadata) that allows a broad array of information to be retained for searching
3.  Secure user access controls that prevent unauthorized viewing, alteration, and deletion of documents
4. Sophisticated search capabilities that allow users to combine powerful boolean searches, meta data searches, full text searches
5. Automatic assignment of record retention schedule based on record types.
6. Identification of the final disposition date.
7. The ability to place records on hold for litigation purposes.
8. Audit trails for records.
9. Disposal management mechanism
10. Export and Transfer mechanism
11. Back-up system to protect against accidentally loss.