Introduction | How it Works | ERP Integrations  | Key Features | GP Dynamics | Data Sheet

Introduction
With PIF's Smart AP Automation, it's easier than ever before to capture, process and route your accounts payable invoices, reduce your procure-to-pay processing time and increase productivity. PIF AP solutions are easy to use, easy to install, easy to maintain.
Here what our Dynamics customers have to say:
CFO's, controllers, and AP managers are looking for ways to streamline operations, ensure compliance, mitigate risk, lower costs and improve cash flow. Intelligent data capture and flexible workflows allow you to process invoices in seconds, lower costs, improve vendor or customer relations and increase early payment discounts. Your critical data is captured directly from your documents, validated and entered into your ERP system. Your document is then stored and routed to the right person at the right time. Eliminate stacks of invoices on desks, error prone manual data entry, missing files and chasing approvals. Obtain secure, permission-based access from any desktop or mobile device.
How it Works
Do you know what your fully loaded cost of processing an invoice is, including AP staff labor, managerial overhead, labor burden, facilities, and IT support?
Do you know how long on average it takes you to process an invoice?
The AP Automation suite includes all core software licensing (on-premise or cloud), professional services and annual support or subscription. Licensing for image enabling your core ERP system for quick retrieval either through embedding URL's, hot key or button press within your ERP interface. Moreover, the advanced workflow module is provided to support multi-step automation such as conditional based notification, routing, exception reports, thresholds and delegates. Depending on the ERP a pre-configured data push and pull "connector" is available for most systems, and in some cases a universal method using flat csv or ODBC output is required.
Best in class companies using AP automation can process invoices for under $3 in less than 4 days. Using advanced document classification, OCR extraction, text recognition and rules based validation your invoices can be imported into your ECM system and data can be entered directly into your ERP system reducing manual data entry increasing processing speed up to 80%.
Our solutions extract data and connect to ERP systems such as: SAP, SAP B1, JD Edwards, MS Dynamics AX/NAV/GP/SL, Sage 500/300/100, Infor, Epicor, Intuit Quickbooks, SYSPRO, ReQlogic and many more. According to AIIM (Association for Information and Image Management) the ROI for most automated capture solutions is 12-18 months or less.
If you are processing 500 or more invoices per month, require more than 2 clerks to process your invoices or are outsourcing your invoicing, AP Automation can help you.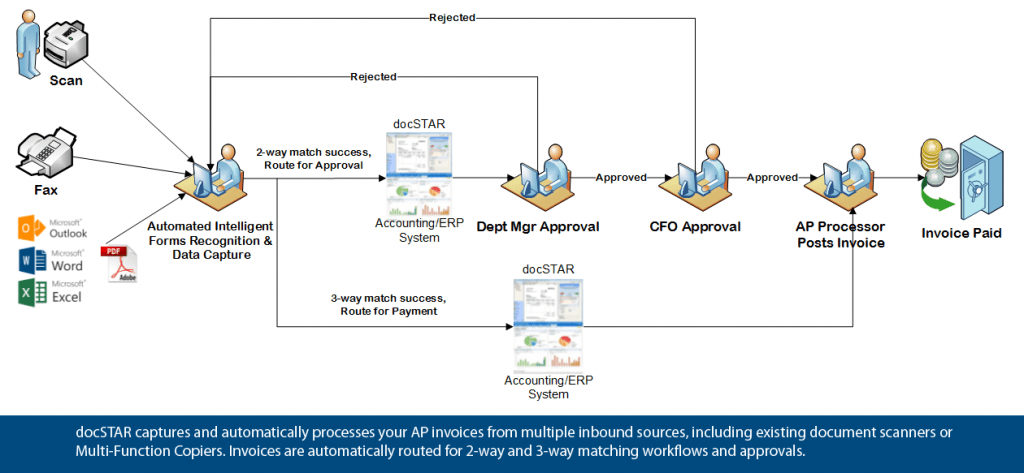 Key Features of AP Automation
Increase Cash Flow Visibility
Reduce Manual Data Entry Errors
Increase Employee Efficiency
Improve Internal controls and Compliance
Reduce Audit Cycles
Capture Early Payment Discounts
Image Acquisition/Import and Scanning
Scanner
MFP
Fax
Hot Folder Automaton
Browse for Images
Import Connectors
Multiple Watch Folders
XML Input Automation
OCR/ICR/OMR
Full-page advanced OCR
Background Mode
Multi-CPU Support
Image Pre-processing
Automatic Documents Separation
Machine-print, hand-print text and checkmark recognition
Bar Code Recognition
Table Extraction and Validation
Full-Text Indexing
Regex pattern matching
Redaction
Flexible verification settings
Database Lookup Editor
Metadata Auto-fill
Capture
Auto-Find/Self Learning
Document Recognition
Automatic Classification
Data Extraction
Database Lookups
Automatic Business Rules
Exception Handling
Auto-filing
Customized Naming
Store all documents in a central repository for instant access
View related documents
Verification
Low confident characters verification
Business Rule error validation
Document Reconciliation
Automatically performs 2 & 3 way matching to identify errors
Business Intelligence and Reporting
Identify bottlenecks and reroute documents
Accelerate P2P
Accelerate O2C
Permission-based Audit trail to support internal controls and compliance
Export
File
Database
Document Management System
Account Systems
Customer Export API
Full-text indexing
Auto-filing
Redaction
Powerful Integration
API-level Integration
Custom connectors with .NET Export API
Auto Export
OBDC/OLE DB support
Supports archival of documents to ECM systems
ERP Integrations


Your line of business applications are critical for your everyday accounts payable activities. DocStar Smart AP Automation integrates with any ERP, CRM or accounting system with open source integration tools to make it easy to retrieve data, review invoices, and push them along the AP workflow – automatically.
Whether you use MS Dynamics, Sage, Infor, Epicor, or any other ERP, integration with DocStar provides your organization with an even better return on investment.
Benefits of ERP integration
Synchronize data between DocStar Smart AP Automation, enterprise content management and any enterprise application for streamlined business processes.
Real-time data updates for instant visibility to data.
Eliminate duplicate data entry and switching between applications for the right information to reduce errors and boost productivity.
Automatically validate data to eliminate "stare & compare" before posting to your accounting software for additional efficiency.
Enterprise application-agnostic integration for maximum flexibility and ease of use.
Full list of ERP integration performed for our customer