Ricoh is empowering digital workplaces using innovative technologies and services enabling individuals to work smarter. For more than 80 years, Ricoh has been driving innovation and is a leading provider of document management solutions, IT services, commercial and industrial printing, digital cameras, and industrial systems.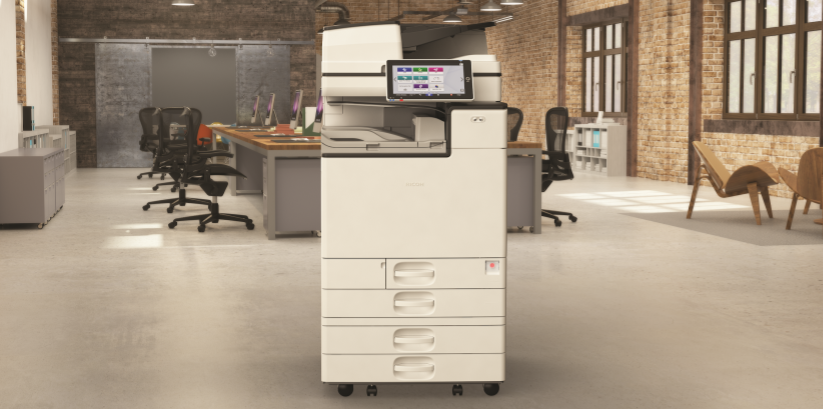 Ricoh provides high-quality, multifunction printers and copiers designed to meet whatever needs you may have, whether you're printing 5,000 pages a month or 100,000.
Their Multi-Function Devices have features that make them stand out as more than just printers and copiers. Learn about a few of their features and how a Ricoh MFD can transform your organization:
AirPrint: allows iPad®, iPhone®, iPod touch® and Mac® users to wirelessly print photos, emails, web pages and documents simply and easily. 
Auto Email Notifications: set notifications for specific events (ie out of toner, cover open, paper tray error, etc.) 
AutoSwitching/AutoSensing: allows the device to toggle back and forth between various network protocols and languages of the inbound data streams automatically 
Banner Page Print: separate documents or print jobs from each other and to identify the originator of the print request by user name.
Banner Printing: print onto banner stock up to 49.6" long
Classification Code: allows administrators to set up accounts and sub-classes for individual users or specific document tracking purposes
Envelope Printing
International Font Support
Letterhead Mode: controls printing on preprinted/pre-punched paper such as letterhead, press releases, and newsletter mastheads so that the printed text and/or image does not interfere with the preprinted images
Mail-to-print:  allows users to send E-mails with attachments directly to networked MFPs
Print from USB/SD Card
One-Click User Interface: simplify and speed up job programming
PCL Resident Font Adoption: printers store a number of fonts to speed up printing processes
PDF Direct Print: enables a printer or MFP to receive and then print a PDF file directly from a PC or removable media without launching Adobe Acrobat or spooling a print job on the host PC
Pictbridge Support: Users can connect a PictBridge-enabled digital camera directly to a printer or MFP, bypassing the need to process photographic images through a connected PC with photo editing software before printing
Postscript Emulation: allows manufacturers to offer PostScript-like drivers and printing features that are extremely similar to genuine PostScript, but without paying expensive licensing rights to Adobe
Sample/Locked/Hold/Stored/Store & Print Modes: enabled when the printer or MFP is configured with a Hard Disk Drive, enhances productivity, security, and confidentiality for all users. 
Scheduled Print: allows a user to output a document at a predetermined time – up to 23 hours and 59 minutes ahead of the time the job is submitted
Separator Sheets: blank sheet from another paper source and places it between the first and last pages of each set
Ricoh Smart Device Connector: quickly access a RICOH multifunction printer (MFP) or projector by registering it with a smart device via Bluetooth Low Energy, a QR code, or the IP address or hostname of an MFP
Spool Printing: allows print job data sent from a computer to be temporarily stored in the Hard Disk Drive
Tab Stock Printing
Universal Print Driver: provides a single intelligent driver interface that can be used across a customer's entire fleet of printers and MFPs
Virtual Printers: a pseudo or phantom printer that can only be recognized on a network
Watermarks: print watermarks over document content
XPS Direct Print Media Option: print XPS files directly from portable media  
2-Line LCD Control Panel
Auto Start
Auto Off Timer
Energy Saver Timer
Login/Logout Key  
Autocolor calibration
Color background adjustment
Color balance adjustment
Color erase
Booklet Mode: Booklet mode produces printed or copied sets of two or more pages in page order. 
Centering
Chapters
 Combine/N-Up: The Combine or N-Up feature combines multiple pages onto a single sheet of paper
Directional Magnification: set different reproduction ratios for the vertical and horizontal axis of an image 
Double Copies: copy a single image at 100% and have it reproduced twice on a single side of a copied sheet 
Duplexing: print, copy, or receive faxes onto both sides of a sheet
Erase Modes: allows users to erase the shadow lines that can appear along the edges of pages and/or center spine of bound originals scanned from the platen glass. 
Front and Back Covers
Full Image Copying
ID Card Copy
Image Repeat
Magazine Mode
Reduction/Enlargement
Auto Paper Select/Auto Tray Switching
Mixed Sizes Mode: allow users to place original sets containing pages with different sizes together for processing in the same job
Date Stamps & Page Numbering
Automatic Document Feeder
Batch Scanning Mode
Black and White or Color Scanning
Drop Out Color: Users can choose to NOT capture a specific color from a scanned page.
Mixed Size Originals
OCR Support
Preview Before Transmission
Scan-to-Email
Scan-to-URL
Scan-to-USB
Find the right product that fits your needs.