Never lose or misplace a file again.
Whether your documents are paper or electronic all of your records are fully text searchable,making it possible to retrieve any document instantly.By managing records electronically you can collaborate with stakeholders,avoid missing deadlines,and comply with regulations.Electronic signatures,document authentication,version control and audit trail features ensure your contracts are legally acceptable.A secure web-based interface provides access the ability to freeze specific documents due to litigation.Additionally,the ability to apply a retention category,which allows the purging or movement of document types based on a date/time or event. DocStar comes standard with automatic retention scheduling while other competitive systems require a paid plugin.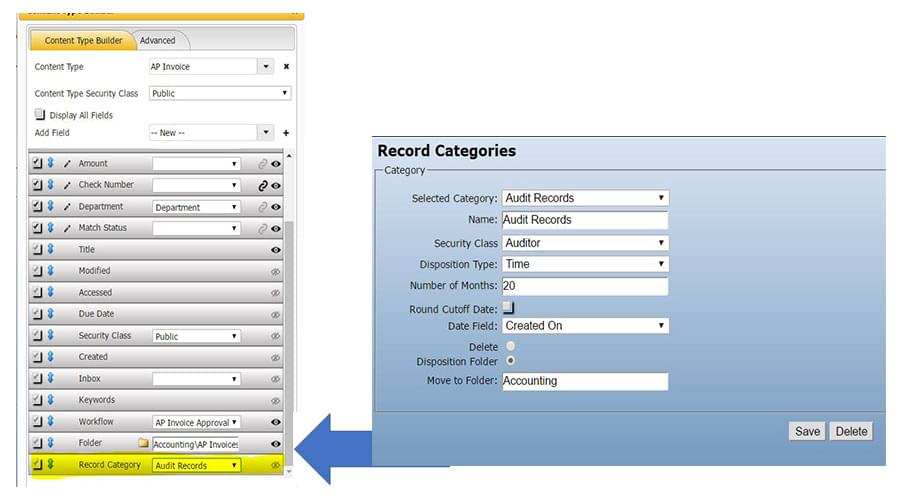 Features
Record Categories for retention scheduling
Retention based on event or date/time

Upon expiration date system can either move to another folder or delete

Apply the record category to any available Content Type

Freeze a document or set of documents.Set the case or reason for freeze
Only administrators can remove freezes
Freeze locks record from modification,ensuring integrity of the document
Distribute contracts for approvals
Identify missing documents quickly
Build workflows linking documents to make audit management easier
Document annotation features allow you to collaborate with stakeholders

Search and retrieval

Full text OCR and document indexing
Real-time search and retrieval:retrieve any contract or document instantly
Instant hotkey access within your core business system

Security

Access management for security compliance
Version control and audit trails
Document authentication
Segregated and secured personnel folders
Native file support

Document management and retention policies
Quick and easy audit management
Disaster recovery
Improve Record Management
Employees get what they need faster with a secure single repository for records.Manage all of your records through their entire lifecycle.Free your staff to focus on more valuable tasks and never lose or misplace a file again.
Enter documents into collaborative processing workflows that include alerts,approvals,reporting
User access management allows only authorized users to view documents
Audit trail functions track versions and maintain legal authenticity with digital signatures and time and date stamps
Easy one-click access to supporting documentation based on the document currently being viewed with a new related document display
Access all related documents instantly pre-define,automate,and enforce your document driven processes and include automated due date creation,automated alerts via docSTAR and email,require certain documents and approvals,and provide business insight into your document workflows in real-time
 Reduce Costs
Eliminate physical storage costs
Reduce labor costs associated with physical storage,filing and regulatory compliance
Assign employees to higher value activities
Regulatory Compliance
Store and distribute contracts and related documents with version control and audit traceability
Automate document retention
Integrate with your Core Business Systems
We create solutions tightly integrated with the leading core business solutions allowing you to enter your documents and data in one step while storing them in the document management system.DocStar can be integrated with any MS SQL/OBDC compliant system.