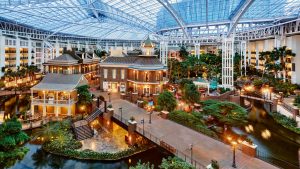 Last week, the PiF Technologies executive team had the opportunity to attend the Epicor Insights Conference in Nashville, TN. Held at the stunning Gaylord Opryland Hotel, we got to enjoy lush atriums, water features, and plenty of walking (we must've covered 20 miles).  Between educational sessions, networking with other DocStar partners, and Peyton Manning's keynote, we had a busy (but exciting) few days. Both our Executive VP of Operations, Brent Wesler, and our Executive VP of Sales and Marketing, Bill Mirabile, were able to share some thoughts on the conference and what it means for PiF, our customers, and the industry.
The event started Tuesday afternoon May 22nd with an introduction to AP Automation presented by Ray Emirizian, DocStar Director of Product Management. While PiF implements plenty of AP Automation projects per year, it was great to see and hear from other customers that have implemented the DocStar Smart AP Solution with their specific ERP.
We joined fellow DocStar Partners for a round table discussion where many topics were discussed from how to position DocStar technologies with the base and net new customers, swim upstream towards more mission critical applications such as AP, HR and AR as well as sharing thoughts on the best way to generate leads. We enjoyed being vocal participants and sharing our thoughts throughout the meeting.
After the roundtable we had the opportunity to attend that evening's Meet and Greet with Docstar Executives as well as PiF customers from Maine Drilling and Blasting, Northern Bank and Trust, Heilind Electronics, Catania Oils, and others. It was great to discuss the success of the DocStar product within their organization as well as brainstorm future projects involving business process improvement.
We ended the evening by sharing dinner with DocStar executive team. We were able to share what attributed to our success over the last few years, including focusing on an increase in web forms and advanced capture opportunities; including the use cases of AP Automation and HR Applicant Tracking and Onboarding.  We also shared our excitement about future growth through generating leads from digital marketing and social media coupled with a strong team of inside sales development reps.
We kicked off our second day by sitting down for breakfast with DocStar VP of Product Development, Gregg Laird, and Director of Product Development, Matt Bemis, and discussing the previous nights hockey game and vacationing in Maine. Our conversation was cut short when the bell rang over the loudspeaker indicating the keynote speech with guest Peyton Manning was about to start.
We quickly exited the dining hall and made our way to an amphitheatre large enough to accommodate thousands of people. We made sure to get right to the front of the hall and secure a seat up front with a great view of the stage.
Epicor's CEO, Steve Murphy started the keynote with 3 annual award winners across a few different industries all highlighted with a promotion video. Notably, the first customer use case highlighted DocStar AP Automation and the success they have had with the solution. This was significant, given the Epicor acquisition of DocStar about 18 months ago – and for Epicor to showcase the DocStar AP Automation first to their 4,000 customers demonstrated a commitment to the product and solution. It was great to see how other DocStar and Epicor customers were utilizing the product and what business processes problems they were solving. After some Q & A, Colleen Langevin, CMO was introduced. Colleen then welcomed the day's special guest, Peyton Manning.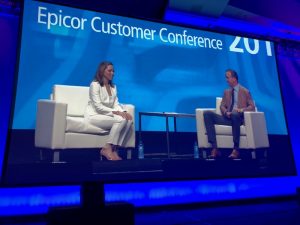 Over the next hour, Colleen asked Peyton about a number of topics from his NFL career, all of which aligned with the theme of the conference: user efficiencies. Peyton was well received and incredibly funny. Having grown up an NFL fan, watching Peyton and hearing his stories was very fascinating, and he kept the attention of 4,000+ people with ease. At several moments, we were belly laughing hearing about his childhood and growing up the son of Archie Manning, and learning about what happens behind the scenes in the NFL.
The remainder of our day was a robust agenda with sessions focused on the DocStar Roadmap and new feature tour including Sales Order Automation, HR Automation, and Meet the DocStar Experts. As a Partner, we were able to learn about new product enhancements that were coming, view the new DocuSign integration, hear about changes in the DocStar ECM 18.2 version, and find new solutions to more complex issues. Having several of the top DocStar Partners all together allowed us to share best practices and form relationships that will enable us to work together on professional services projects.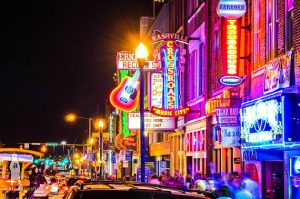 We ended our trip with a visit to the famed Broadway Street in Nashville. The town was hopping on a Wednesday night, with pedal taverns, horse drawn carriage rides, and of course no shortage of great live music bellowing from the dozens of establishments that line the street. It seemed each and every popular country music singer had their own restaurant and the music from each one was better than the last. After thoroughly enjoying a Big Daddy sampler from Martin's BBQ, we visited Blake Shelton's Old Red Saloon, Dierks Bentley's bar, and then Honky Tonk Central (the highlight of the night!) to see local country acts perform.