Sometimes things that are seemingly self explanatory are much more complex than we realize (like building Ikea furniture). But complex doesn't have to be negative. By its name alone, web forms seem pretty clear, but their full power and functionality goes beyond their name alone. We'll be taking a closer look at Web Forms, what they are, how they work, and how they can be utilized in your organization. 
While Web Forms as a concept seems complex, it's likely that you've used them before. Any time you fill out information on a website you're completing a Web Form! The technical definition of Web Forms is an online page that allows users to input information and submit it to a central repository. 
Web Forms are designed to replicate paper forms, without the paper. Rather than handwriting information and coloring in or checking off boxes, the same data can be input by typing and clicking. 
Beyond just text and checkmarks, Web Forms can contain a variety of elements that help collect data. such as checkboxes, submission buttons, text boxes, radio buttons, and other details to enhance the functionality of the form. Web Forms are designed to be completely customizable which means that essentially any form you currently complete on paper can be transformed into a Web Form. 
It may seem like Web Forms are complicated to implement, often they need to be built by developers using HTML and related web-oriented languages. For organizations without in-house developers creating custom forms, PiF has a solution.
Our easy-to-use Web Forms solution doesn't require hard-coding or intensive IT legwork. It's fully customized to your needs and can be utilized for whatever you need.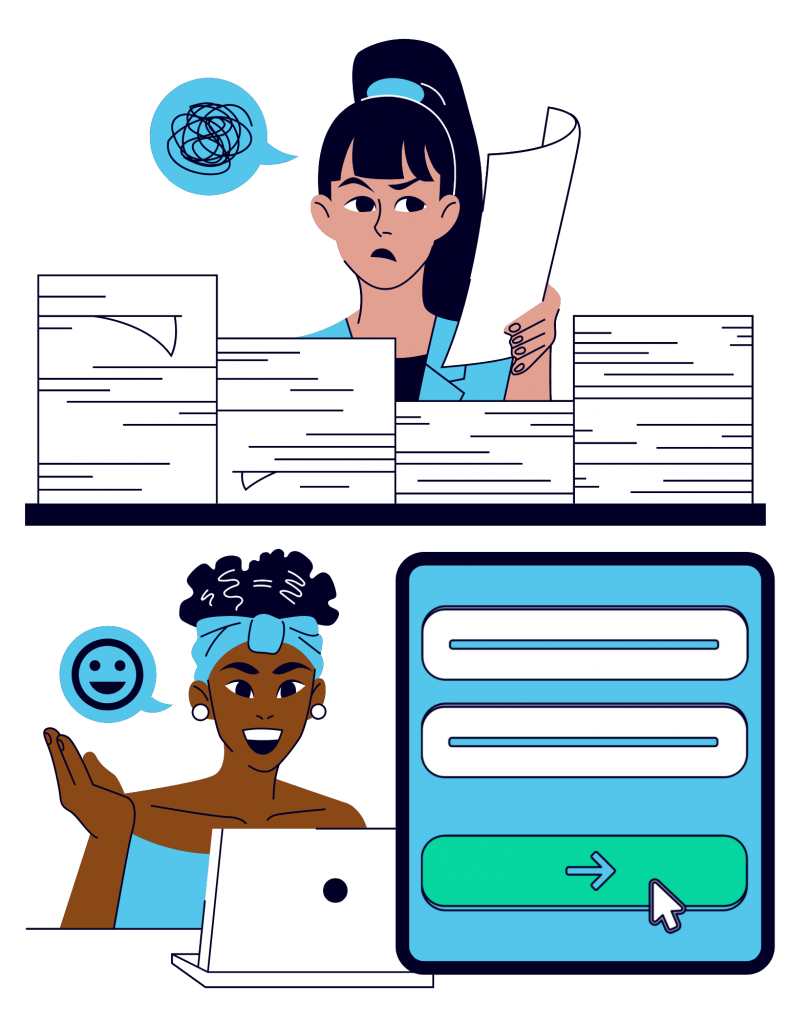 Users of the web form don't see the pieces that comprise it, they only see the fields that they need to complete. The steps of the form process are as follows:
For example, let's take a look at this process in the context of a sales order form. You would send your customer the URL of the form with the necessary fields. The customer would complete the form and once they hit submit the data automatically goes into your enterprise resource planning software, enterprise content management software, customer relationship management software, or wherever you need the data to go in order to process the order. 
By having this process completed via a web form as opposed to a paper form or fillable PDF you can complete the sales order process quicker and with less effort. With a web form, an administrator or salesperson does not have to double enter data from the sales order form into the appropriate line of business systems. Additionally, the sales order upon customer signature is sent immediately to the appropriate systems reducing order times, ensuring accurate items are ordered, etc.
You can sit with a customer with a tablet and complete fields such as part numbers, quantities, descriptions, pricing. Once you've completed the order form, you can simply hand them the tablet (or smartphone or laptop) for the customer to sign electronically. There's no need to print out the form, have the customer physically sign and then scan the order back in, to now have to double data enter all the data into the line of business system
Web forms don't apply to just one specific process either, essentially any form that previously existed on paper can be transformed into a web form. 
Web forms can be applied to any business process and department. The great thing about web forms is that their functionality isn't just limited to the form completion itself, an effective web forms solution can easily be integrated with other software you already use to further streamline your processes as well. 
Daily Service & Safety Checklists
Purchase Orders & Work Orders
Proof of Delivery & Acceptance
Incident Reports & Corrective Action
New Client Onboarding
Service Requests
Care Provider Statements
Veterans Affairs forms
Timesheets & Time Off Requests
Employee Onboarding
Open Enrollment & Benefits Elections
I-9 & W-4
401K & Direct Deposit 
Background Checks
New Customer Onboarding
Sales Orders
Contracts
Expense Reports
Travel Authorization
Customer Satisfaction Surveys
The value of web forms may be clear to your organization, but how can you implement them? If you don't have dedicated staff and resources for internal development projects, it can be nearly impossible to create your own system that is effective (and compliant). Fortunately, there's a simple solution. PiF Technologies has implemented countless custom web form projects that PiF can completely customize to fit your exact needs.
If you're ready to implement web forms, schedule a demo with us. We'll be happy to walk you through the process and show exactly how web forms can benefit your organization.