When most people think about printing at the office, many frustrations come to mind: slow printing, broken machines, and disorganized queues— all making the print process more of a hassle than a convenience. In the past, when someone needed to print they were tethered to one device, and when that device was broken, they'd be stuck without the ability to print at all. For many organizations, eliminating paper entirely may not be an option or a desire, which creates an opportunity to build a more efficient print system instead. 
Investing in Cloud Print empowers your organization to print smarter and avoid the common woes associated with traditional printing.
Cloud Print or Cloud Printing refers to technology that provides users with the ability to print documents from anywhere, using any device, as long as it has an internet connection. Users can send print jobs to remote printers, without needing to be physically present near the printer. 
The benefits of Cloud Printing include increased productivity, cost savings, and flexibility across your organization. Employees can print documents while on the go, without the need to transfer files to another device, send files to a coworker to print, or carry a USB stick across the office. Cloud Printing also reduces the need for expensive hardware and software, as well as the costs associated with maintenance and repairs.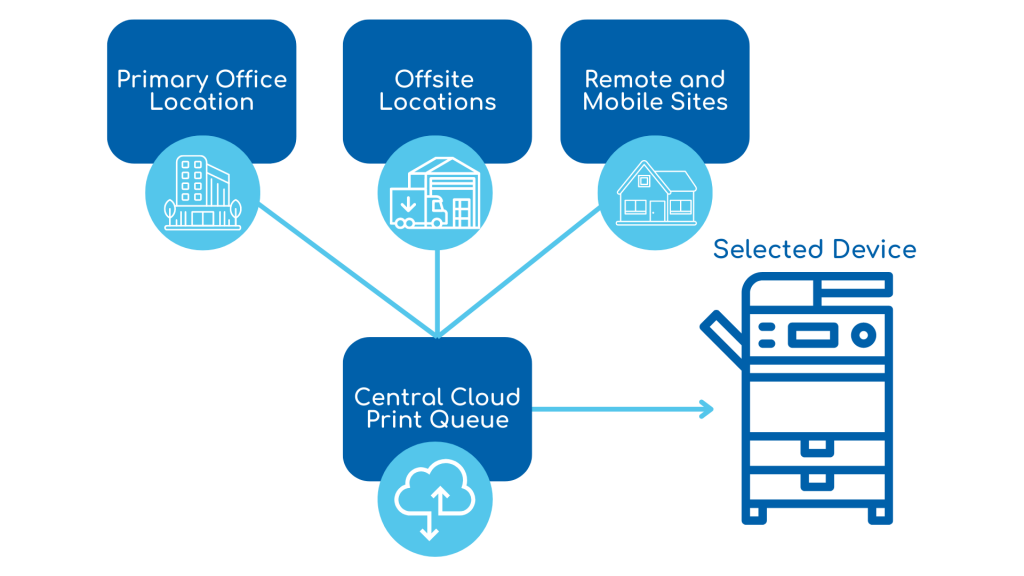 Organizations can reduce the number of machines in their fleet and consolidate devices without losing any sort of productivity. Additionally, Cloud Printing provides greater security and control over printing jobs, as administrators can monitor and manage print jobs from a central location. In short, Cloud Printing is an essential tool for organizations looking to modernize their print fleet and easily print documents from anywhere, at any time.
One of the biggest benefits of Cloud Printing is through how it promotes flexibility and productivity across your organization. No matter how many devices you use, Cloud Printing can adapt to your unique needs. There's no loss in visibility and control, and you can get the same granular data whether you have 10 devices or 10,000. By managing just one secure print queue, rather than unique queues for every machine, you can easily troubleshoot issues and ensure all printing goes smoothly. Employees can send jobs into the central queue and release it at any device, from any device, no matter where they are. In the case where one of your machines is down, users can simply select another device without any hiccups in their print job.
Copiers and printers are often overlooked as security weak spots for an organization. What many leaders don't realize is that even basic desktop printers can be the first step in a security breach that quickly evolves into a huge threat for your organization. With your MFPs (Multifunction Printers) serving as "open points" for malicious actors, you need a solution that can keep your sensitive information safe. Cloud Print encrypts hardware and transmitted data, and allows for remote monitoring of users, access, and activity. 
What does this mean? Put simply it means that you know who is printing what, and when — while also having a fence of security around your entire print network.  
Beyond more advanced cybersecurity threats, simple mistakes can also prove to be a security risk. Prints of sensitive documents left out in the open can be taken accidentally or intentionally by the wrong person, or go missing entirely. Cloud Print allows you to validate users before hitting print, meaning that print jobs can be released only when the authorized person is there to print it. In the case of sensitive data being printed by the wrong person (for example, account or employee data), you can use Cloud Print technology to trace that job back to exactly who printed it and what device they printed it from. You can also use it to watermark specific documents for an added layer of security.
Cloud Print allows you to reduce printing costs by up to 20%. Common occurrences such as wasted prints, excess blank pages, overused toner, and other print jobs can quickly pile up and create waste for your organization. Cloud Print eliminates the need for local print server hardware, as well as the costs associated with upkeep. As your organization grows, rather than invest in more equipment, you can easily scale with a streamlined Cloud solution. It takes the load off of your IT team by moving your driver to one central queue and allows them to simply solve problems without spending too much time combing through different queues. 
An added consideration, aside from the financial impact of overprinting, is print waste. For organizations looking to be eco-friendly, Cloud Print software can allow for custom eco-friendly options and print job attributes that actively reduce waste.
How to implement Cloud Print
Many organizations are unsure of investing in new technology, and many IT departments are hesitant of new systems that may appear to require heavy involvement from their team.
Fortunately, implementing Cloud Print is simple, and you can even choose to wrap it into a new copier service contract when buying Ricoh devices from PiF. If you already have a current contract, you can enhance your fleet by implementing it now. Either way, PiF can help you understand the benefits for your organization as well as implement it for you! Complete the form below and someone from our team will get in touch with you.