World Paper Free Day 2014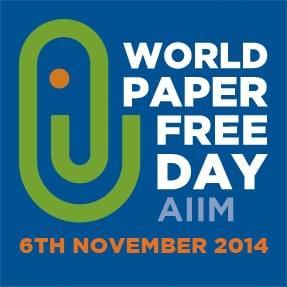 Join PiF Technologies as we pledge to reduce the amount of paper we generate.  Find out how docSTAR solutions help organizations reduce paper.
The Association for Information and Image Management (AIIM) research proves less paper in our processes means huge benefits in efficiency, collaboration, and well-being.
Take the AIMM pledge here:  AIIM World Paper Free Day Pledge:  #WPFD
What are your most paper intensive processes?  docSTAR can help you reduce paper in any department.
58% of organizations store most of their paper records on premises
Inefficient use of printers, copiers, and fax machines can waste between 1 and 3 percent of company

revenue

annually. ¹
Half of all documents printed are thrown away within 24 hours.²
Of all trees harvested for industrial use, 42% go to making paper.³
The paper industry is also the largest industrial user of water, the biggest water polluter, and the third largest emitter of global warming pollution. ³
References
[1] Gartner Group. (2001).
Rightsizing Output Fleets: The Hidden Goldmine.
[2] Hesseldahl, A. (2008, May 27). The New Push to Get Rid of Paper.
BusinessWeek
. [3] NRDC. (2006). Smart Paper Policies Are Good for Business.
Natural Resources Defense Council's Website
.