When we talk with prospect clients about the benefits of a document management system, one of the frequent questions we get asked is: What is the difference between DocStar and Microsoft SharePoint? While there is some overlap in features between the two applications, they are very different and solve very different problems. We are going to take a deep dive into both systems and explain the main limitations around SharePoint and the benefits of choosing DocStar as your document management software.
A deep dive into SharePoint
For companies looking to streamline processes, remove paper from their workflows, and perform imaging functions such as OCR, intelligent separation, detailed workflow routing, and matching, Microsoft SharePoint is not the correct solution for you. However if you want a collaborative site, where people can share ideas, notes and some electronic documents in their native format, SharePoint may be a good fit.
Microsoft SharePoint positions itself as an all-in-one solution for file sharing and document collaboration for any business structure, and for some organizations, this simple product may work just fine. It boasts solutions such as simple file sharing, organizational efficiency, powerful search, and transforming business processes. At a relatively low cost, it's enticing for many organizations who are in need of a way to collaborate and share files. Unfortunately, many organizations realize quickly that SharePoint is technically intensive to implement, and if they're switching from paper-based processes to using SharePoint, their employee's learning curve can be incredibly frustrating due to lack of training.
Common Issues with SharePoint
One of SharePoint's downfalls is that it's promoted as a turn-key solution for all types of organizations. Not only is it difficult to implement, but the solutions themselves are not industry specific. In order for SharePoint to fit an organization's industry-specific needs, extensive customization of the software is required. This can be difficult and time consuming and nearly impossible for someone without an IT background, and can quickly become costly to set up for your company. WIth SharePoint, implementation is performed internally typically by IT and operations employees. This can become cumbersome for your IT team and for your organization as a whole, as this takes your teams away from other important daily tasks.
One of the main reasons organizations choose SharePoint is because of its association with its parent company, Microsoft. Since many organizations already use the Microsoft Office Suite or Microsoft Dynamics it seems like a natural fit to also use SharePoint. While many people are comfortable with the Microsoft Office products, SharePoint poses new challenges and unfamiliar functionality creating a steep learning curve within the company. When visiting the Microsoft SharePoint product page, their product photos boast customized, cohesive intranet and collaboration pages. While these may seem appealing, these features come at a cost-intensive price. While these customized homepages are achievable, they don't come at their lowest cost and are timely and costly to set up.
Another big problem with SharePoint is the lack of user training and user adoption. Due to this same problem, most organizations are not even using everything available to them within the SharePoint platform because they simply don't understand the software to begin with. SharePoint is bought and set up independently. This can create frustration during implementation as well as when the product is ready to use. Along with the learning curve, employees often don't understand the reason behind using SharePoint over their local file storage thus creating inefficiencies, outdated versions of documents, and lack of visibility across the company if everyone is not on the same page. 
Using SharePoint as a central hub for all your business files also comes with internal and external security concerns. SharePoint has extremely limited functionality for user-access permissions. The functions are limited to "blocking or limiting access to all users in the organization or only some users."  This creates limitations in how the system can be used company-wide and therefore is not a complete solution for document management. If you intend to use SharePoint as a storage system for all your company files, you may need to reevaluate your plans. While the platform is great for sharing and storing files in a centralized location for all staff to access, this does create problems with confidential and secure files. This can require extensive customization of the platform. For example, documentation that is at a confidential level cannot be stored in Sharepoint and will need to be stored in an alternate location.
Not a standalone solution
SharePoint may be adequate for storing files and sharing them, however, it lacks depth of features, and therefore is not an ideal standalone solution for document management. A closer comparison to Enterprise Content Management systems shows that SharePoint cannot provide the benefits of a fully functioning enterprise content management system. 
Low cost isn't worth the hassle
Many users believe that SharePoint is free or is included with their Microsoft 360 subscription. While true to an extent (it does come free via download or with Windows Server software operating systems), the main interfacing component for end users is a paid service. The paid features start at $5/month per user but that doesn't include any customization or support. SharePoint can quickly get expensive, and oftentimes the clear cost is never laid out. While on paper, a more sophisticated ECM solution like DocStar may seem more expensive, what you save in time and frustration, coupled with a clear understanding of costs from the beginning, will be well worth it.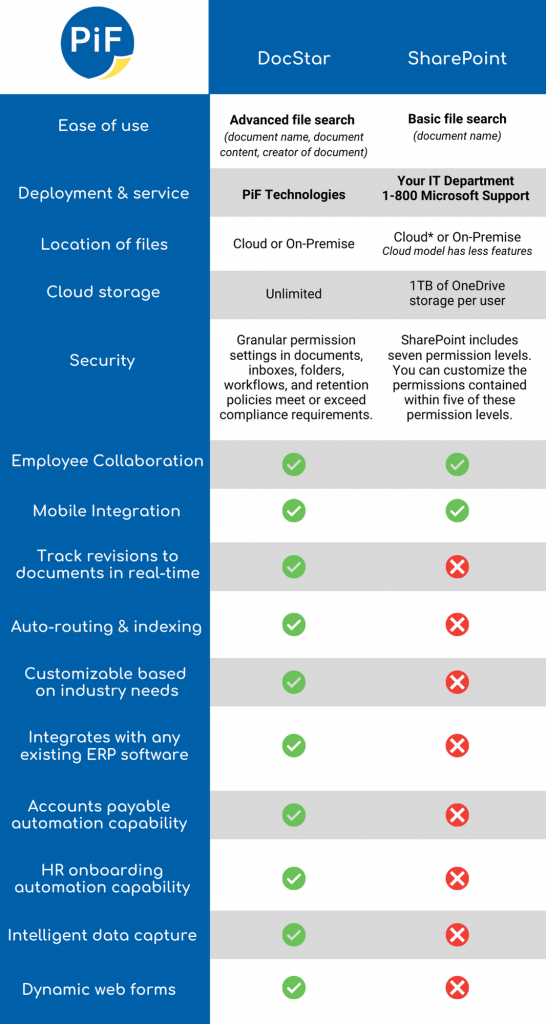 DocStar has security features in place from the first day of use to ensure information will not be vulnerable when sharing it with employees, customers, or vendors. By providing granular permission settings, a secure central repository, compliant audit trails, redaction and annotation support, redundant backup using secure 256 bit encryption, and single sign, you can feel confident about hosting your information within your ECM solution.
With the collaboration between your team and PiF, we will ensure you are happy with your investment and educated on how to use it throughout implementation and the lifecycle of our working relationship. Our excellent professional services team will set up your on-premise or cloud based DocStar platform and be there every step of the way to answer any questions that may arise as your team begins to use the new platform. Our goal is to make sure you have all the tools necessary to train your staff on how to use DocStar as well as the verbiage to explain to them the logical reasoning behind utilizing this system going forward. We also offer one-on-one training with your team on an as-needed basis as well as regular free webinar training you can attend at your convenience.
Above all, DocStar is customizable to your individual needs and industry. The platform offers a variety of add-on functionalities including Accounts Payable Automation, HR Onboarding and In-Take, Workflow Approvals and Routing, Robotic Process Automation (RPA) and more. DocStar grows with your organization to fit your needs year after year. 
When first given the choice between SharePoint and DocStar, it may have seemed like SharePoint was the better option, simply because of its cost and functionality. But when you closely examine SharePoint and compare it directly to DocStar, it doesn't even come close to the benefits a true Enterprise Content Management system will provide. 
We'd love to talk to you about how Document Management can help your organization become more efficient, cost-effective, and productive.
Send us a message to get started.