Any parent, teacher, or administrator can tell you that schools require a ton of paper. Enrollment forms, Individualized Education Plans (IEPs), 504 Plans, Field Trip Permission Slips, Employee Contracts, Extracurricular Sign-Ups, and dozens of other everyday practices within a school require piles and piles of paperwork. 
Once this paperwork is completed, where does it go? Many schools are required to hang on to records for a long period of time, sometimes indefinitely! This means that files get shoved into cabinets and stored away for years in dark, wet, basements or dusty old closets. 
With increased state and federal data privacy laws, more schools are required to store documents securely. What's so secure about a filing cabinet in a basement? 
Because of these changes, staff is forced to spend a large amount of their time maintaining and securing student records and case files, as well as business documents. Whether it's manually filling filing cabinets or dragging and dropping into folders on a hard drive, it's an inefficient process that unintentionally puts sensitive student information at risk.
While these outdated methods may seem like an okay solution because "it's always been done this way," by choosing to not upgrade your processes you burden your staff with excess work and risk your students' privacy by keeping their data vulnerable.    
Many Student Information Systems appear to be a better solution, but are often focused on grades and student engagement, not secure records keeping. A more secure (and simple to use) solution is an Enterprise Content Management system.
What is Enterprise Content Management?
Simply put, Enterprise Content Management (ECM) is a digital repository that allows you to import, capture, retrieve, and store documents digitally in a central location. It's easier to use and far more secure than Google Drive, Microsoft Sharepoint, or other free filing sharing sites. 
Specifically, in the case of schools, that means documents are completely secure, while still being easily accessible. You can drastically improve your current document storage process and allow staff to reallocate time typically spent filing away paperwork or digging through piles of paper to find specific documents to tasks that will benefit your school, students, and faculty. 
Another clear advantage to Enterprise Content Management is that all digital documents are legally sound for audits that may need to be completed to adhere to state and federal regulations. There is also built-in retention scheduling in which documents can be automatically destroyed after a set period of time, no more questioning whether or not certain documents are needing to be retained!
In many cases, certain documents should only be seen by certain individuals. With ECM you can apply security and ensure that sensitive documents are only seen by the right people at the right time. 
Plain and simple, ECM is the best alternative to a box of files in a moldy basement, and it will benefit your school today and in the future.
What can Document Management do?
Capture and manage paper and electronic documents

Security – document-level permissions

Auditing – FERPA and HIPAA

File cabinet replacement – avoid wet moldy basements

Retention scheduling for schools – 50-70 years
Eliminating Paper from the Start
An almost-too-obvious solution to the too much paper problem plaguing schools is to eliminate it completely! By implementing systems that eradicate paper, you can create streamlined processes for your staff, students, and their families.
Any school has dozens and dozens of forms completed both internally and externally. When common forms require the same information, typically those completing the form need to fill out the same information over and over again. In turn, this means any time these forms need to be entered into digital systems (like PowerSchool, Blackbaud, or others), staff needs to enter the same information over and over again. Handwriting can be tough to read and missing information can be hard to hunt down when your staff is running around departments or calling parents. It's an inefficient process and there's a better way to capture this information. 
By investing in Web Forms, you can eliminate the need for paper forms entirely and allow common forms to be completed digitally and directly imported, and organized in your Enterprise Content Management system!   
As mentioned, paper forms that need to be scanned or re-keyed into your database cause loss of data and efficiency for your school. While PDFs that can be completed digitally may help to help bridge the gap, they still are frustrating to complete and still require manual data entry more often than not.
Web Forms receive correctly structured data from the beginning of the process, which eliminates the need for manual data entry entirely. The forms can be sent via link for completion by parents, by staff, or anyone else who needs to complete them. Once the form is complete it gets sent into a workflow to help move the form along. 
With workflows, each user has their own queue of tasks to perform that are visible to supervisors to ensure completion, there are also system notifications for actions due and when actions are incomplete. An example could be missing signatures, incomplete fields, or other common form mistakes. The benefit with Web Forms is that when these mistakes occur, they're caught and can be fixed immediately, rather than being caught once the form is submitted requiring a wild goose chase to get the correct info.  
Web Forms are simple to use and can be completed on any device at any time, making them a simple solution for busy parents! Any paper form can be converted into a Web Form, just take a look at the list below for just some of the Web Forms we can build for your school!
New student registration

Job applications

Faculty & staff contracts

Time cards for hourly employees

Requisitions

Extracurricular signups 

Consent to treat

Records release authorization

Admissions and enrollment

Field trip permission slips

Student Health forms
Free and Reduced lunch forms

Disciplinary/Bus Conduct reports

Transcript requests

Bullying forms

IEP's, 504, PPT

Request for Eligibility Determination

Receipt of Procedural Safeguards

Age of Majority

Behavior Intervention Plan

Excusal Form

Manifestation Determination
Observation

Occupational Therapy Exit Criteria

OT Transition Form

Parental Consent for Outside Agency Attendance

Student Behavior Incident Report

Summary of Team Meeting

Transportation Request

Waiver of Time Limits

Written Prior Notice
Let's look at a sample 504 Plan Web Form process!
Start with the 504 referral form

Workflow automation to route, notify and prompt participants to enter certain data

Cascading forms starting with the 504 Plan accompanying forms for eligibility determination, guardian complaints forms, childfind notices, etc

Wet signatures from parents and administrators to reduce paper printing and handwriting

Overlay on school, state, or federal PDF's

Automatically add the completed documents into a secure, student archive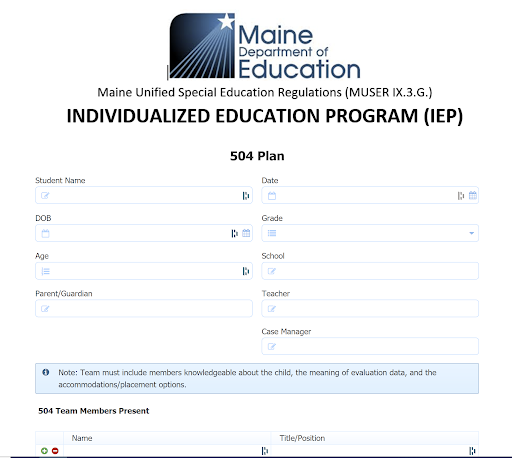 Let's talk about a better process for your school!
Implementing an entirely new set of systems and processes for your school may seem complicated, but with the help of PiF Technologies it doesn't have to be! We can help your school Put Information First with our suite of solutions, like Enterprise Content Management and Web Forms!
We'd love to have a conversation with you about your current processes and show you how our dozens of school district customers across New England and beyond use our solutions! 
Click the button below to contact us.